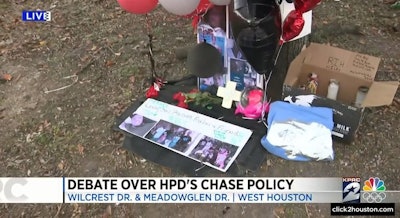 A deadly vehicle pursuit in west Houston is raising questions about police chases and how they are handled in the city.
"As bad as the officers feel about something like this, it goes down to one person, and it's that felon who fled in a motor vehicle and ended up taking somebody's life," Ray Hunt, executive director for the Houston Police Officer's Union, told Click2Houston.
Hunt said the death of 35-year-old Carl Wiley Jr. could have been avoided if 20-year-old Cameron Rogers had not taken off and led police on a chase.
Wiley was killed just after midnight Monday when a suspect in a high-speed police chase ran a red light and crashed into his car, Fox26 reports.
The officers were pursuing 20-year-old Cameron Rogers who fled after officers reportedly approached him in a convenience store parking lot over parking in a handicapped spot.
"As soon as he failed to stop for the lights and sirens on the police car, he's committing a felony and that person needs to be stopped. We don't know what that person has done." Hunt said. "It's very, very rare for a person to flee in a motor vehicle that's not wanted for something very serious. It's very rare."
It turns out Rogers was on deferred adjudication for an aggravated robbery from January 2022.