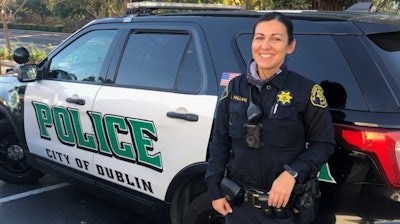 A 36-year-old Alameda County, CA, sheriff's deputy died over the weekend after experiencing a medical emergency while on duty in Dublin.
The sheriff's office told CBS that Deputy Aubrey Phillips, who was assigned as a patrol officer contracted by the city of Dublin, had conducted a traffic stop Saturday at around 1:46 a.m. in which she arrested the vehicle's driver. During the process of the arrest while sitting in her patrol vehicle, Phillips suffered a severe and acute medical emergency. The nature of the medical emergency was not disclosed.
Another officer noticed Phillips in distress and began first aid efforts, the sheriff's office said. Phillips was rushed to Stanford Valley Care Hospital in Pleasanton in critical condition. She was then transferred to John Muir Medical Center in Walnut Creek for life-saving intervention but she died at the hospital.
Deputy Phillips was a registered organ donor and her organs will be donated to others as she wished.
Phillips was a five-year veteran of the sheriff's office was assigned as a midnight shift patrol officer in the City of Dublin. She is the daughter of a now-retired Alameda County Deputy Sheriff while her husband is a current deputy with the agency. Phillips and her husband have three young children.