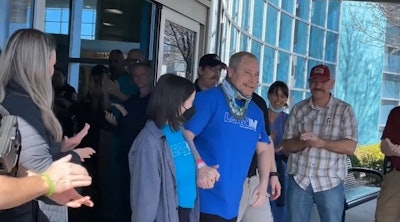 A Joplin, MO, officer who was shot in the face during a series of shootings that killed two other officers was released from the hospital Wednesday.
Officer Rick Hirshey received a standing ovation from hospital staff and members as he was wheeled through the hospital lobby. After he reached the door, he walked to his vehicle with the help of family members and to more cheers from first responders and other well-wishers, KOAM reports.
Hirshey was one of three Joplin officers shot during a March 8 series of shootings by Alex Felix.
Hirshey and other Joplin officers were searching for Felix after he fatally shot Joplin police Cpl. Benjamin Cooper, 40, and Officer Jake Reed, 27, during a confrontation at a Joplin shopping area, the Associated Press reports.
Officer Hirshey used his police vehicle to impede the now-deceased suspect as he fled the crime scene. Officers say this is when the suspect struck Hirshey with a bullet through his windshield.
Felix was shot and killed by another Joplin officer, Captain William Davis.