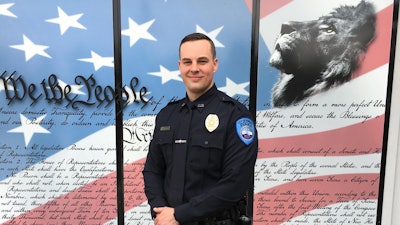 An off-duty Edmonds, WA, police officer—Tyler Steffins—was stabbed to death by a man in Las Vegas Saturday, the Edmonds Police Department said Monday.
Freddy Allen, 58, was taken into custody after the Las Vegas Metro Police Department launched a homicide investigation.
Officer Steffins apparently fought with the suspect and was stabbed on the Las Vegas strip, KOMO reports. The suspect then ran from the scene as local police were arriving,
A witness told police Steffins approached him on the bridge to pet his dogs and began to pet them "aggressively," according to the report. The witness and Steffins began arguing while Allen approached Steffins and stood next to him.
The witness said it looked like Allen pushed Steffins in the chest and then ran away, but Steffins said "I think he just stabbed me." Steffins and Allen did not speak with one another before or during the stabbing, the witness told police.
Steffins, a veteran of the U.S. Marine Corps, is survived by his wife and two young children.