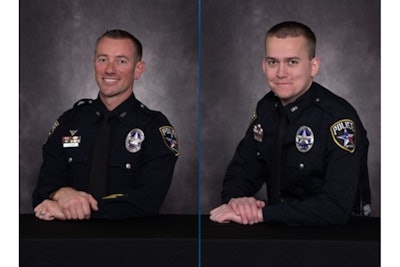 Two Irving, TX, police officers have been honored by U.S. Attorney General Merrick Garland for rescuing a family from a frozen pond in 2021.
Officer Travis Allen and Officer Brendan Fowler received the U.S. Attorney General's distinguished service award for community policing for the rescue.
The incident began when a family walked out onto a frozen pond to take some photos. The parents then fell through the ice, the Dallas Morning News reports.
When Officer Fowler got to the scene, he threw a lifeline out to both the dad and mom, telling them to wrap it around themselves. Allen arrived next and communicated with Fowler to develop a rescue plan, WFAA reports.
The Irving Fire Department arrived and helped by sliding two ladders onto the ice, but the mother was succumbing to the cold and began to go under the water.
Officer Allen immediately crawled out on the ladder and held the woman's face above water. A firefighter crawled out on the other ladder as the ice broke under Allen, dumping him into the water.
Allen and the firefighter quickly managed to lift the woman onto the ladder. Other officers on the scene made sure everyone was attached to the ladder and pulled the ladder onto the shore.
Both the mother and father were transported to the hospital where they were treated and recovered.