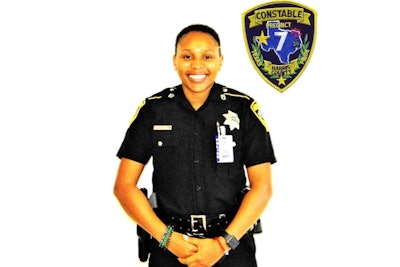 A Harris County Precinct 7 deputy constable was killed Saturday evening when her patrol vehicle was hit by a DUI suspect driving a truck.
Deputy Jennifer Chavis was working the Sam Houston Tollway when she was dispatched to a call about a suspected DUI. Witnesses called 911 to report that a white utility truck was "weaving and swerving in the lanes," Harris County Precinct 7 Constable May Walker's office reported on Facebook. The constable's office says she stopped ahead of the DUI suspect and was parked on the side of the entranceway to the westbound lanes, when the truck hit her vehicle. Chavis' patrol vehicle burst into flames after the crash.
Deputy Chavis died at the scene. "She was found with no signs of life," the constable's office says.
The DUI suspect, identified by authorities as Adolfo Serrano was transported to the hospital.
Serrano faces a charge of felony intoxication manslaughter of a peace officer. He is being held on $750,000 bond.
Deputy Chavis is survived by her husband, a four-year-old son, and an 11-year-old nephew she and her husband were raising. She was an Army veteran who joined the Harris County Precinct 7 Constable's Office in 2020.