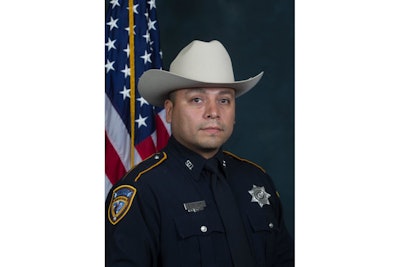 One of the three suspects in the off-duty killing of a Harris County (TX) Sheriff's deputy could face the death penalty.
Deputy Darren Almendarez, 51, was shot and killed Thursday night in a grocery store parking lot. Deputy Almendaraz was attacked when he returned to his vehicle with his wife and found three men trying to steal the catalytic converter, authorities say.
The state is seeking the death penalty and asked for no bond for Joshua Stewart, 23. Two other suspects are also charged in the crime, 17-year-old Fredrick Tardy and 23-year-old Joshua Stewart and 19-year-old Fredarias Henry Clark. All three are facing charges of capital murder.
It was revealed in court Monday that Clark was the driver of the suspects' car and he allegedly shot first at Almendarez. Clark is said to have warned the other two suspects to get back in their car as Almendarez approached his truck. The men had cordless cutting tools, ABC13 reports.
"The driver later identified as this defendant opened the front driver door, displayed a handgun outside the vehicle over the door frame, shooting towards the complainant. The complainant then pointed his handgun toward the vehicle while approaching. When he reached the driver's side door, grabbed this defendant's handgun as he discharged it in the direction of the complainant," the court clerk read.
As the suspects drove away, Almendarez continued shooting at them as more shots may have been fired from the suspects' car, ABC13 learned in court.
The three men are reportedly part of a bigger crew that steal catalytic converters.
Almendaraz was a 23-year veteran of the Harris County SO. At the time of his death he was assigned to the auto theft unit.