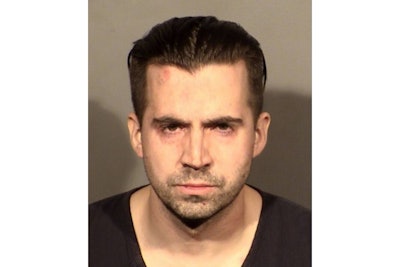 A federal grand jury has indicted a Las Vegas police officer accused of robbing two casinos and trying to rob a third before he was caught.
The U.S. Attorney's Office for Nevada says the grand jury returned the indictment on March 22, charging Caleb Rogers with three counts of interference with commerce by robbery and one count of brandishing a firearm during a crime of violence. He has pleaded not guilty to all counts, per court records.
Federal authorities have alleged Rogers, 33, was behind robberies at Red Rock Casino on Nov. 12 and at Aliante on Jan. 6, stealing about $85,310 from the two casinos, KSNV reports.
He also allegedly robbed the sportsbook at the Rio at gunpoint on Feb. 27, taking nearly $79,000 in cash as he threatened to shoot two employees. One employee hit a security alarm, according to police, and he was tackled and disarmed by security while running away before being taken into custody.
He faces up to 20 years in prison for each count of interference and up to life in prison for the firearm charge. A jury trial is scheduled for May 23.