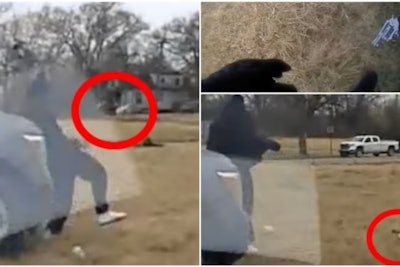 Detroit police bumped a felon with a vehicle and knocked a gun out of his hand after he fled a traffic stop at over 100 mph and got stuck in the mud, officials said.
Officers tried to stop a 2008 Pontiac G6 on March 22 in Detroit for not having a license plate, ClickonDetroit.
The driver, later identified as Randy Sisco, initially pulled over, but once officers exited their vehicle, he took off at a high speed, they said.
Another Detroit police officer was in the area in an unmarked car and saw Sisco flee the traffic stop, officials said.
The G6 eventually drove off the road and got stuck in the mud. Sisco got out and fled into a park on foot, according to court records.
The officer got back into his vehicle and followed Sisco until he saw him reach into his pants and pull out a .357 Magnum revolver, police said.
"Fearing for his safety, the officer in the unmarked car bumped Sisco with the car hard enough to dislodge the gun from his hand, but not so hard that he immediately fell," the criminal complaint reads.
Sisco eventually fell to the grass and was taken into custody by all three pursuing officers, authorities said.
Sisco's criminal record includes a March 2011 guilty plea to first-degree felony home invasion and felony firearm, and an October 2011 guilty plea to dealing/manufacturing a controlled substance.