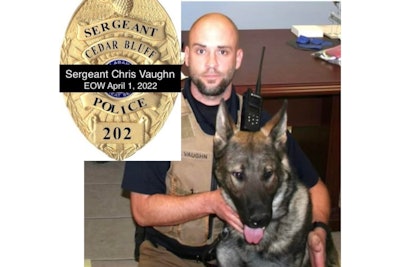 A Cedar Bluff, AL, police sergeant died Friday after suffering a medical event on duty.
Sgt. Christopher Michael Vaughn, 38, died on April 1. He began his law enforcement career with Leesburg Police Department in 2009 and served with Cedar Bluff Police Department since 2015, WBRC reports.
"The hard work and dedication of Sgt. Vaughn will be greatly missed by his fellow officers and the residents of Cedar Bluff. Sgt. Vaughn worked tirelessly to serve the residents of Cedar Bluff. Sgt. Vaughn was an excellent example of a law enforcement professional and was highly respected by all other law enforcement in the area. Please keep the family, friends, and co-workers in your prayers.," Cedar Bluff Police said in a release.
Vaughn is survived by his wife and two sons.