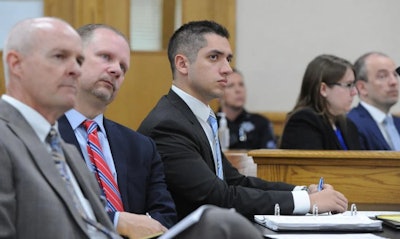 A judge this week dismissed the case against an Idaho Falls, ID, police officer who was charged in connection with a fatal shooting last year. Officer Elias Cerdas was on trial charged with involuntary manslaughter for the February shooting of Joseph Johnson.
Cerdas shot and killed Johnson while searching with other law enforcement officers for a different man, with a history of violence against law enforcement, who had fled from a traffic stop. A witness reported they saw that man running with a gun. Johnson was reportedly wearing clothing similar to the fleeing suspect and was in the backyard of his home when shot by Cerdas.
The case was dismissed on the condition that Cerdas undergo 100 hours of firearms and use of force training and that he remain on "modified duty," reports the Post Register. Cerdas has been on modified duty since the shooting, spending more than a year on desk duty for the Idaho Falls Police Department.
The case could be refiled if Cerdas doesn't complete the training, court officials said. Once the training is completed, he will be allowed to return to patrol duties.
Neither the defense attorneys nor the prosecution discussed how and why they reached a deal to dismiss the case after a single day of testimony. Wilkinson said only that both sides "weighed their options" before reaching a deal on day two of the trial.