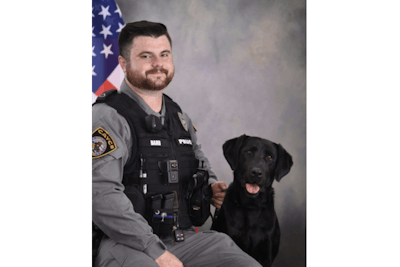 A Cayce, SC, police officer was killed early Sunday morning after responding to a domestic disturbance call.
According to Cayce Police Department, three officers arrived to a home just after 2:30 a.m. to find a man in the front yard, WCBD reports.
As the officers made contact with the man, shots were fired from inside the house.
Cayce PSO Roy Andrew "Drew" Barr was killed as a result.
Columbia Police Department negotiators attempted for seven hours to negotiate a peaceful resolution but the suspect ultimately the suspect took his own life, Cayce Police Chief Chris Cowan said.
Barr, 28, was a firefighter, EMT, and police officer. He came to Cayce PD in 2016. In 2020 he was promoted to the K-9 unit with his dog Molly.
"He was dedicated. He was married to this profession. He didn't have children. He didn't have a wife. He was married to this profession," Cowan said. "He cared about nothing else other than serving his community. And he was shot and killed this morning for no reason. There was no call for it. There was no reason for it. It was inexcusable," WCSC reports.
On May 27, 2017, Barr was one of two Cayce police officers who were shot during an incident that involved a car chase and gunfire, the State reports.