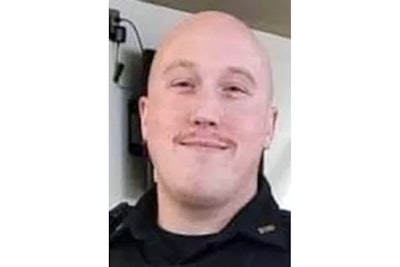 A Knox County (IL) Sheriff's deputy was killed Friday morning when he was struck by the suspect's vehicle while deploying a spike strip during a pursuit, police say.
Deputy Nicholas Weist was trying to stop a vehicle fleeing from Galesburg police.
The suspect's vehicle reportedly struck Weist and then crashed in a field north of the intersection. Galesburg officers apprehended the suspect, Daylon K. Richardson, after a brief foot pursuit, Galesburg,com reports.
The incident started when Galesburg police officers responded to a call about a suspect with a gun at a Circle K Gas Station at 8 a.m. Friday. Two officers found the suspect's vehicle and attempted a traffic stop, but the vehicle reportedly sped away. The chase continued out of Galesburg on U.S. Route 150 until it ended in the death of the deputy and the arrest of the suspect.
Henry County State's Attorney Catherine Runty said Richardson has been charged with two counts of murder, one count of unlawful possession of a weapon by a felon and one count of aggravated fleeing and eluding.
Deputy Weist was 34. He had served with the Knox County So for four years.