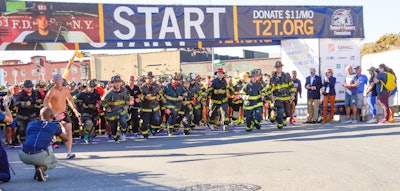 When NYFD Firefighter Stephen Siller grabbed his gear and ran toward the World Trade Center on Sept. 11, 2001, his heroic actions would cost him his life. But, decades later his legacy lives on as the Tunnel to Towers Foundation provides for the families of fallen first responders.
The 34-year-old firefighter, a father of five, had just finished his shift and was on his way to play golf with his brothers when he got word a plane had hit one of the towers. He responded and even when his route was blocked, he did not give up. He charged forward on foot. His dedication to his job as a firefighter that day is captured in the Tunnel to Towers Foundation's name, as his older brother explains.
"Well, it was very obvious to us because when we found out that Stephen ran through the Brooklyn Battery Tunnel on 9/11 with 60 pounds of fire gear on his back, as the tunnel was closed for security reasons. So, he parked his car and left it there and ran through on foot with all that fire gear on his back," says Frank Siller, Stephen's older brother who is chairman and CEO of the foundation. "We said that's what the name should be, Tunnel to Towers, because that's what he did."
The fallen firefighter's siblings created the Tunnel to Towers Foundation to honor Stephen's legacy by supporting the military and first responders who continue to risk life and limb in the line of duty. The Tunnel to Towers Foundation supports these heroes by providing the stability and security of a mortgage-free home to catastrophically injured veterans and first responders and mortgage payoffs for military Gold Star and fallen first responder families with young children.
The foundation began just months after the 9/11 attacks, in December 2001. Siller says they started on a small scale in the first several years and were not paying off mortgages back then. In the beginning, they were taking care of children who had lost parents and provided small stipends like $2,500 or $5,000.
"But, you know, we saw that there was such a great need that we had to change our focus and start raising a lot more money," Siller says.
By the end of 2021, the foundation had provided 450 mortgage-free homes across the country. Nearly half of that total was from last year. The foundation held 200 mortgage-free home dedications in 2021 in honor of the 20th anniversary of 9/11 and the 20th anniversary of the Tunnel to Towers Foundation.
The foundation's Fallen First Responder Home Program was started following the December 2014 murders of NYPD Officers Wenjian Liu and Rafael Ramos. The two officers were sitting in their patrol car in Brooklyn when a gunman walked up and opened fire simply because they were wearing the uniform and badge. Following the line-of-duty deaths of Liu and Ramos, the Tunnel to Towers Foundation raised funds to pay off the mortgages on both of their homes.
The Fallen First Responder Home Program pays-off the mortgages for the families of law enforcement officers and firefighters who are killed in the line of duty and leave young children behind. The foundation reports it has paid off mortgages for families of fallen first responders in nearly all 50 states. In 2021, Tunnel to Towers expanded the program to support the families of first responders who have lost their lives to 9/11 illnesses.
"It's more than just giving them a mortgage-free home. We're involved in their lives afterwards. We have a whole team that stays in contact with them," says Siller.
Helping the Families
The Tunnel to Towers Foundation paid off the mortgage for the family of slain Watauga County (NC) Sheriff's Sergeant Chris Ward. Ward was performing a welfare check on April 28, 2021, with K-9 Deputy Logan Fox when both were shot and killed. Ward is survived by his wife, Candice and two daughters, Molly and Katie.
According to Tunnel to Towers, the 2021 donation to the Ward family was one of 50 granted during the charity's largest one-day mortgage payoff. Representatives of the foundation said this was due in part to an outpouring of support it received after the 20th anniversary of the attacks.
Earlier this year, the Tunnels to Towers Foundation paid off the mortgage for the family of a Charlotte-Mecklenburg police officer who was killed days before Christmas on I-85. Officer Mia Goodwin was killed in a crash involving a tractor-trailer while she was working at an accident scene early on the morning of Dec. 22. She had just returned to duty following maternity leave and leaves a husband and several children behind.
Officer Samuel Jimenez was shot and killed in the line of duty on Nov. 19, 2018, after responding to reports of a shooting at Chicago's Mercy Hospital. Jimenez had recently completed his 18-month probationary period and was a full-fledged officer assigned to the Second District. He and his partner were patrolling near Mercy hospital when the shooting started.
Jimenez, who was 28 at the time of his death, left behind his wife Crystal and three children: daughters Ebony and Angelina, and a son, Julian. Tunnel to Towers Foundation paid off the mortgage on the Jimenez family's home as part of the 2020 Season of Hope.
The families of two other Chicago officers who were killed at the same time while on duty together, also have benefitted. Chicago Police Officers Eduardo Marmolejo and Conrad Gary were struck and killed by a South Shore Line commuter train on Dec. 17, 2018, while pursuing a suspect across the tracks.
Marmolejo had been on the force with the 5th District for about two-and-a-half years and is survived by his wife Maria, and daughters Rebeca, Madalyn, and Sofia. Gary had served with the Chicago Police Department for 18 months and previously served his country with the U.S. Air Force. He left behind his wife, Kelly; and their daughter Tess, who was only 6 months old when she lost her father.
The Tunnel to Towers Foundation paid off the mortgages for the families of both Marmolejo and Gary as part of the 2020 Season of Hope.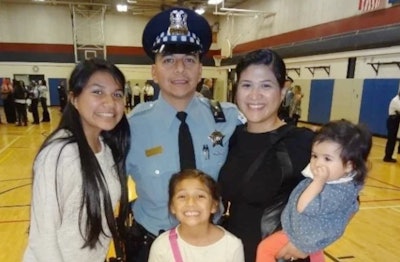 Funding
"We grow every year, tremendously, because the need is enormous. Americans are seeing that we are the foundation that is going to take on this responsibility and they're responding," says Siller. "Not for profits took a big, big hit over the last couple of years. But we haven't, we've done the opposite. We're doubling growth almost every single year and once again, it's because of the results and who we're doing it for. You take care of these great heroes and people want to be part of that."
The Tunnel to Towers Foundation operates on donations. Some are corporate donations of $5,000, $10,000, $50,000, or more. In some cases, an individual will come forward and simply pay off a mortgage for a family. But a large part of the funding comes from individuals who pledge to give as little as $11 per month.
"It seems like every couple of days there's a police officer giving their life and the same with firefighters. So, it is a tremendous financial responsibility and one of the ways that we found to be able to make this kind of commitment is that we ask everybody to donate as little as $11 a month. Most people can do that, and to think that that $11 a month helps pay off these mortgages," Siller explains, as he reminds that just in the past year Tunnel to Towers made more than 200 homes mortgage free.
Siller also points out that of funds donated, nearly 95% flow directly into the programs to help families. For seven years running, the foundation has achieved a four-star rating from Charity Navigator, the nation's largest and most-utilized evaluator of charities. In addition, the foundation scored 100% in the accountability and transparency category. None of the Siller family members or individuals on the board of directors take a salary from the organization.
Other Programs
The Fallen First Responder Home Program is just one part of the Tunnel to Towers Foundation's efforts.
The Smart Home Program builds specially adapted mortgage-free smart homes that help catastrophically injured veterans, and first responders reclaim their day-to-day independence. Most are constructed to adaptive needs rather than being modified after purchase.
"Ninety-nine percent of the time, we're building it from the ground up because we put all this high technology into these houses. The smart homes give them back their freedoms. When they lost their legs and their arms, or both, they need these homes that work off an iPad," says Siller. "The smart home has given back some of their independence."
The Gold Star Family Home Program honors the legacy of those who have made the ultimate sacrifice while serving our country by paying off the mortgage or providing the surviving spouses and young children with mortgage-free homes.
Annual Events
In New York and around the country there are annual events to benefit the Tunnel to Towers Foundation but the most iconic of these follows Stephen Siller's footsteps on his final day.
"It's called the Tunnel to Towers Run and it's always the last Sunday in September. These great families come and join us and go through the same tunnel that my brother ran through. It's awe inspiring. We have the pictures of all the firefighters and police officers that died that day when they come out of the tunnel," says Siller. "These firefighters and police officers that come and join us, they bring their whole families and it's part of the healing process and they want to pay it forward to the next family that is going to need the help."
The 5K run/walk began with just 1,500 participants but now has grown to be one of the top 5K events in the country. As it follows Stephen Siller's route it also pays homage to the 343 FDNY firefighters, law enforcement officers, and thousands of civilians who lost their lives on September 11, 2001.
Other signature events include more than 100 runs around the country, Tower Climb NYC, TCS New York Marathon, Tunnel To Towers National Golf Series, and others.
"I think Stephen's upstairs right now in heaven smiling down on us and proud of the work that we're doing in his honor, but not just his honor. We're very proud of the fact that we honor and never forget all those who perished on 911," says Siller.
"We're in a position now that we can make the promise that if a police officer or firefighter gives their kids a kiss goodbye, and they don't come home, we're going to take care of their families that are left behind," says Siller. "And we're going to do that all over the United States forever. We're not stopping. We're building the foundation to where it'll be here forever, and we can take care of these families forever."