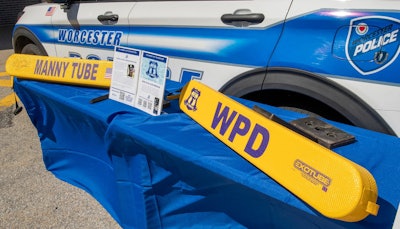 Despite having experience as a lifeguard, Officer Enmanuel "Manny" Familia lost his life in June of last year while trying to save a teenager from drowning in Worcester, MA. To honor and celebrate his life, his family started the Manny 267 Foundation to spread awareness of the hazards of drowning and how essential it is for first responders and the community to know how to swim safely.
Officers responded to Green Hill Park after receiving reports of people drowning June 4, 2021. They arrived and saw three teenagers struggling to stay afloat and one could only reach his arms above the water. Five officers, including 38-year-old Manny, jumped in to try to save them. Two teens were saved. The bodies of Manny and the third teen, a 14-year-old boy, were later found by divers.
Manny's older brother by three years, Elvin Familia, spoke at his funeral. Upon returning to his seat after delivering the eulogy, he knew he wanted to do something special.
"I promised him that I was going to do everything in my power to make sure that his name was not forgotten, and his sacrifice will be remembered forever. That's when I came up with a foundation. So, I went to work," says Familia.
When Familia returned home to Florida after his brother's funeral, he immediately began planning what would become the Manny 267 Foundation. He officially started promoting the foundation a few months later in September. Manny's badge number with the Worcester Police Department was 267, so it was incorporated into the organization's name. Other family members joined the effort and they started working to educate and prepare officers who could be caught in the same situation of potentially losing their lives trying to make a water rescue.
"I wanted to make sure that this summer at least the Worcester Police Department, which is the department Manny belonged to, was covered. Then that's what we did, we went to work," Familia says.
Promoting Safety
The Manny 267 Foundation has provided 40-inch-long ExoTube rescue floatation devices, dubbed Manny Tubes, to the Worcester Police Department. The first presentation of Manny Tubes was March 26. The foundation had wanted to provide the rescue devices back in November, but efforts were hampered by supply chain challenges during the COVID-19 pandemic.
Familia said the foundation provided Manny Tubes to equip every emergency vehicle, both marked and unmarked, at the Worcester Police Department. There are other support vehicles that do not have the Manny Tubes yet, but Familia said eventually every departmental vehicle will be equipped. So far about 100 vehicles have Manny Tubes. Familia said he follows recommendations the department provides about the numbers of vehicles that need the floatation devices and goes from there.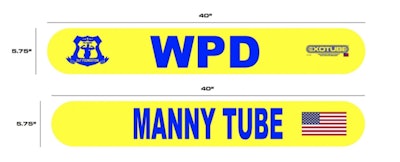 In collaboration with the YMCA, officers are now training in proper water rescue techniques in the same swimming pool where Manny and his brother learned to swim when they were children and later were trained as lifeguards.
"We grew up at that YMCA, so it is full circle," says Familia.
Across 14 weeks, every one of more than 400 officers will learn to save lives in the water. But the training will also help officers learn how they can be safer in the water as well.
"One of the surprising things that I learned was that there are a lot of police officers that barely know how to swim," Familia says. "I understand making a rescue is not easy, and this is why this is so important for us. Because just like Manny, there's no way a police officer is going to get to a scene where a child is drowning and not jump in. We want to make sure that they are well trained, they know how to use the rescue tubes, and they become strong swimmers."
While the Manny 267 Foundation is taking care of Worcester officers, it has not forgotten about the broader community. It is also collaborating with the YMCA to provide swimming lessons for area children.
"We've got to make sure that kids from the community, especially inner-city kids that are not exposed to water, have swimming lessons and that kind of stuff. They need to understand the importance of learning how to swim and at least have some type of basic knowledge," says Familia.
Another component of the foundation's mission is to spread information about drowning and raise awareness.
The Manny 267 Foundation uses its website to educate online guests about drowning and points out that, according to the Centers for Disease Control, 50 to 75% of drownings occur in open water such as oceans, lakes, rivers, and ponds. The website also provides a breakdown of what a victim may do when drowning.
Stage 1 - Head tilted back. Victim will tilt their head back to attempt to breathe and get air.
Stage 2 – Mouth at water level. Someone who is drowning is trying to keep their mouth level with the water because they are trying to get air. The mouth will bob up for air and back down under the water.
Stage 3 – No waving for help. Pressing down on the surface of the water allows drowning people to use their bodies so they can lift their mouths out of the water to breathe.
Stage 4 – Look at their eyes. A drowning victim's eyes will appear glassy/empty.
State 5 – Body stays upright in the water. When a victim is drowning there is almost always no supporting wall or kick, but they will stay in the water upright as they are trying to rise above the surface.
"You know, it's not like what we see in the movies, big splashing noises, whatever. Drowning is very quiet; it happens under the water. When you go to a pool, yes, it's a very controlled environment. When we are talking about any type of open water out in the wild, oceans, rivers, ponds, things change--water temperature, water conditions, and the stress of 'I've got to perform this rescue.' All that stuff is very different than what you see when you go to a pool. That's the message that I want people to understand. Regardless of how good of a swimmer you are, how experienced you are, that's only part of the equation. Everything else and the elements are uncontrollable. So, we can see the results by what happened to Manny," says Familia.
Community Memorials
The community of Worcester is taking steps to remember Manny and honor his ultimate sacrifice. In one part of town, a mural depicting the fallen officer adorns a wall. By the lake where he perished, there is a memorial bench dedicated to him and two trees were planted at the edge of the water. One was planted in memory of Manny and the other in memory of the teen who drowned. A local brewery produced a beer in Manny's honor and donated the proceeds to the foundation. Manny was also honored at a WooSox baseball game where his son threw out the first pitch.
Manny's children and their cousins, Elvin Familia's children, are all part of the foundation and actively involved. In conjunction with a local artist the children created a clothing line. All the proceeds from the sales of the clothing items benefit the foundation. The clothing line launched recently by selling hoodies at a local minor league baseball game. They sold more than 100 hoodies in an hour.
The city renamed a street to Officer Manny Familia Way. It was the final street along his route to the park the day he responded to the call which claimed his life. It is the same street where his daughter attends high school. She called Familia, her uncle, recently after receiving a letter from her school. The new address on her school's letterhead is special to her. It is 1 Officer Manny Familia Way. The official unveiling of the street will be done in conjunction with special observances in June, the one-year anniversary of his death. Around that same time, there will be a mass of remembrance and it will be a time for the community to come together. Familia said various activities are being planned by the City of Worcester and the police department.
"We are just going to be part of whatever they have planned for us. We just want to be around and be with our brothers and sisters of the department and with family. It's going to be a tough day. Nothing has been easy since we lost Manny. One of the biggest things we're still dealing with is the disbelief," says Familia. "I can tell you that we don't know how it's going to be, it's going to be an emotional day. The only thing I can tell you is we're going to be together just like always. We are a very united family, a big family. We're going to get through it."
The foundation not just recognizes the loss of one life, but two. Included on the Manny 267 Foundation's website is a memorial to Troy Love, the out-of-town teen who also drowned that same day. The Familia family harbors no ill feelings toward Love, whose swimming adventure ultimately cost Manny his life.
"He was a kid doing the things that kids do. So, it's tragic, but I don't put any blame. That family also suffered a loss, a great loss of a son, a brother, a kid who had a whole life ahead of him," says Familia. "That's why it was important that we included Troy in our website, and everything. Every time we talked about this tragedy his name is mentioned because a family lost a kid. They lost an important part of their family, and that's how we feel because we're going through it as well."
Manny's Big Personality
"Everybody that knew him or came in contact with him can agree on this dude was like the biggest personality in the room whenever he walked in. He was very charming. He had a way with people. He always wanted to engage with people and he was always genuinely interested in people," Familia says of his brother.
Manny was known for his enthusiastic laugh, which could be heard from nearly any distance. His brother says he was a clown, funny, and had a smile you could "see across a stadium."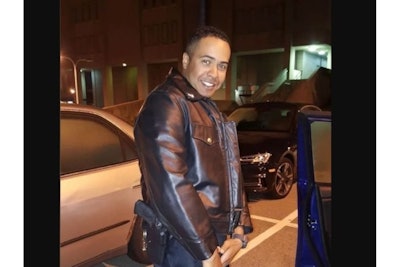 Manny's Career
Manny served five years with the Worcester Police Department, where he was part of Tactical Patrol Force, the Crisis Intervention Team, a crisis negotiator, a recruitment officer, and was training to become a member of the SWAT Team.
"We lost a friend, we lost a colleague, someone who was not just that day but was always doing something to better himself as a police officer to become more engaged with the community. He was just that type of kid. He was a true cop," Worcester Police Chief Steven Sargent says in a video series the Massachusetts Chiefs of Police Association aired in support of the Manny 267 Foundation. "His legacy is part of our history now. We put one foot in front of the other to get to our mission and to do what we have to do, but he'll never be forgotten."
Although Manny was known for his most role with the Worcester Police Department, his law enforcement career started earlier and he served three prior departments.
He worked as an officer for the Oakham Police Department, the Qunsigamond Community College Police Department, and the Clark University Police Department. He also had been a supervising officer for the Department of Youth Services, Youth Apprehension Division. Familia explains Manny even completed three different police academies along that career path. At the time of his death, he was also pursuing a bachelor's degree in criminal justice from Anna Maria College.
Manny is survived by wife Jennifer, their two children, son Jovan E. Familia and daughter Jayla A.; his parents, siblings, and a large extended family.