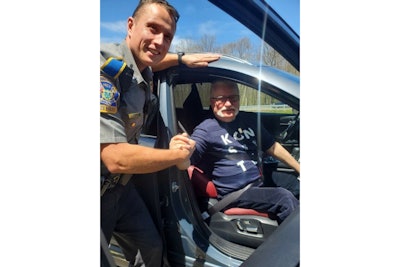 A Polish-Born Connecticut State Police trooper was called to I-84 to aid a motorist with a flat tire.
Upon arrival Trooper Lipert discovered that Polish national hero and first president of Poland elected by popular vote Lech Walesa needed his help.
The Nobel Peace Prize Laureate was on his way to the World Affairs Council of Connecticut and the Office of Gov. Ned Lamont to talk about help for Ukrainian refugees when his vehicle was disabled by a flat tire.
Trooper Lipert said he was beyond grateful for the opportunity to help such an influential individual, and briefly speak to him about the history of Poland, the CSP said in a Facebook post.