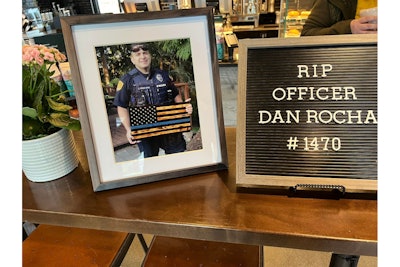 A Starbucks store in Everett, WA, was dedicated to a fallen city police officer Friday who was shot and killed in the parking lot earlier this year.
On the afternoon of March 25, Officer Dan Rocha went to his local Starbucks at 1010 North Broadway Ave. "Shortly after getting his coffee that day, he was tragically killed in the parking lot while investigating a suspicious circumstance," the Everett Police Department reports. The suspect was taken into custody that afternoon.
On Friday the staff and owners of the Starbucks location held an event to memorialize the fallen officer.
"Today, on National Peace Officer Memorial Day, the partners at Dan's favorite Starbucks shut down the store to take time to honor him as an officer and a key part of the community. They welcomed members from the Everett Police Department and Dan's family to dedicate the store to his memory," Everett PD said on Facebook.
"This was his Starbucks; he knew the partners beyond just their names, knowing their lives, sharing in their successes, and was part of their Starbucks family," the Everett PD reports.