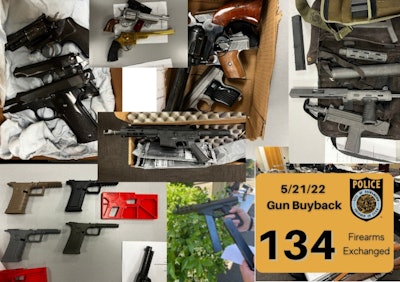 Sacramento Police received 134 guns Saturday during the department's Gas for Guns Gun Buyback.
The event provided a safe and efficient process for community members to turn in unwanted firearms to the Sacramento Police Department with no questions asked and no identification required, the department says in a social media post. Firearms were exchanged for $50 gas cards and more than 100 members of the community turned in firearms at the event.
"As a department we will continue to use innovative ideas to increase the safety of our community, says Chief Kathy Lester. "I truly believe violent crime prevention is a shared responsibility and today's overwhelming community participation is evidence of the success we can achieve together."
The department reports community members most commonly cited a lack of experience or knowledge with firearms, lack of knowledge of the legality of the firearms, or an inability to safely store the firearms as the main reasons for participating in the exchange.
Among the firearms received was at least one assault weapon, numerous components for privately manufactured firearms (ghost guns), and multiple other illegally configured firearms, police say.