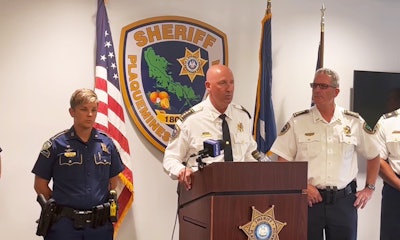 A Louisiana deputy was injured early Tuesday morning when he was struck by an ATV fleeing from another deputy. The Plaquemines Parish Sheriff's Office reported the deputy was in critical but stable condition following the incident.
Sheriff Jerry Turlich says a deputy observed two four-wheelers entering the parish and operating without lights. He explains there have been some burglaries, cars stolen, and the deputy thought the ATVs might be stolen. The deputy tried to stop the ATVs but a pursuit ensued.
Along the route of the pursuit, another deputy stepped out of his patrol unit and tried to flag the ATV down in the roadway at a bridge.
"The bike would have missed him and at the last second veered right at the officer, right at the officer. It's heartbreaking to me. It's heartbreaking in my department,"
the sheriff said in a press conference Tuesday.
The ATV rider was ejected and both he and the deputy were injured. The other ATV rider had taken a different highway during the pursuit and fled but was apprehended later the same day.
Officials identified 18-year-old Reginald Frederick Hamilton as the ATV rider who hit the deputy, 4WWL reports. The highway patrol public information officers says Hamilton will face charges of attempted first-degree murder of a police officer, flight from an officer, reckless operation of a vehicle, and possible other counts.
The sheriff's office announced Wednesday that 18-year-old Kody Blanchard, who they report was operating the other ATV, was arrested Tuesday evening.
He faces charges of reckless operation of an off-road vehicle, flight from an officer, aggravated obstruction of a highway of commerce, no safety helmet, obedience to and required traffic control devices, general speed law, vehicle license required, and proper equipment/display of plate required.