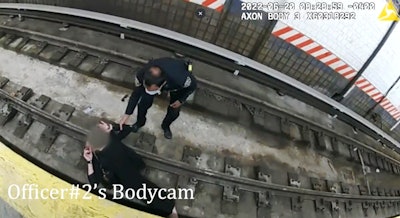 Two officers in New York City saved a 25-year-old woman's life this week after she collapsed and fell onto subway tracks just minutes before a train arrived.
Authorities say the woman suffered a medical episode before she fell on the tracks Monday morning in Brooklyn, reports LOCAL10. The two officers were walking slightly behind her when she collapsed.
The New York Police Department released video from both of the officers' body-worn cameras.
The video shows the woman falling and an officer quickly jumping down onto the tracks, approaching the woman, and then lifting her up as the second officer helps pull her to safety.
The officer who jumped onto the track to save the woman even took time to retrieve the woman's sandals before climbing back up from the tracks onto the platform.
Watch as strategically deployed @nypd68pct officers who were on their daily transit inspection came to the rescue when a passenger suffered a medical episode and fell onto the tracks minutes before a train rolled into the station. pic.twitter.com/qdGwnCFWgM

— NYPD NEWS (@NYPDnews) June 21, 2022