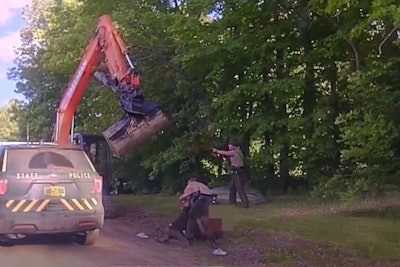 When Vermont State Police effected the arrest of a man in Hardwick last week they were "menaced" by an excavator operated by the man's father, the department says on Facebook.
"It could have been, 'Sir, turn around, put your hands around your back, you're under arrest for an assault,' and they would have driven away," Vermont State Police Capt. Matt Daley told WCAX.
Police arrived last Tuesday to arrest 24-year-old Brandon Tallman on burglary and assault charges stemming from an incident a few days before.
The suspect's father Wayne Tallman reportedly operated the excavator and used it as a weapon.
Wayne Tallman faces several charges including reckless endangerment and assault on a protected official.
"They don't have a scenario at the academy where we practice this one," VSP said.