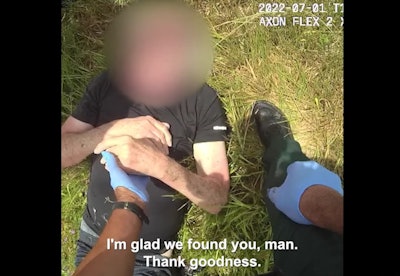 The Orange County Sheriff's Office (FL) released body-worn camera footage of a deputy finding a missing 81-year-old man and rescuing him from a retention pond.
According to the department, the man had left his residence without his medication the previous day and officials were searching for him.
Deputy Steven Jones found the man, July 1, on his side in the shallow area of a retention pond. His head was barely above water.
"I found him. I found him. He is in the water, and he is moving," Jones advises over his radio.
"Come on buddy, come on. Come on," the deputy tells the man as he drags him from the water onto the bank. "You're going to be fine buddy."
Orange County Fire Rescue responded to the scene and took the man to an area hospital where he is recovering.