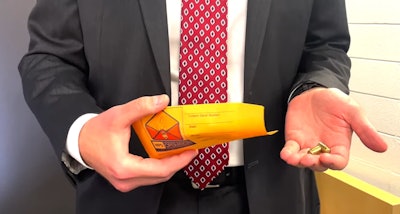 The Milwaukee Police Department has launched a new initiative, Operation Save-A-Casing, and is asking gun owners to participate by saving two spent shell casings for each gun they own.
The new program is a partnership with the community and the police department that is driven by an increase in firearm thefts from vehicles and home burglaries, police say.
"The next time you're at the range, please collect two spent shell casings from your firearm," says Sgt. Dan Knitter, of the Milwaukee Police Department. "Place the casings into an Operation Save-A-Casing envelope or other container and keep them in a safe place."
The envelopes are available in all police districts and include a space to record the firearm's make, model, and serial number. If a firearm is lost or stolen, Knitter says victims can give officers the casings when the police report is taken. Individuals can also choose to place two casings into the envelope, record the pertinent information, and give to police in advance to keep safe.
"These casings will help us get your gun back to you and will assist in the investigation if your gun was stolen or used in the commission of a crime," says Knitter.
The police department, in its video announcing the new program, reminds people they are not liable if their stolen gun is used in a crime and suggests that "reporting the stolen gun to the authorities demonstrates a level of concern equal to that of a person who wants the gun recovered to minimize harm to the community."
The Wichita Police Department (KS) launched the same program in 2018.