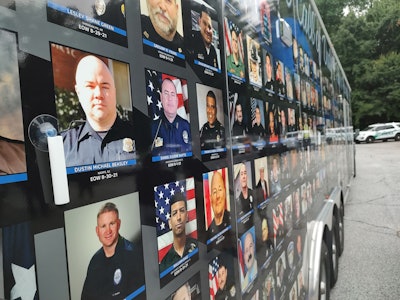 One morning earlier this week a small band of motorcycles rumbled into a city park in North Augusta, SC, followed by the Beyond the Call of Duty End of Watch Ride to Remember 2021 memorial trailer honoring 608 officers who lost their lives last year. The group will visit 268 departments during a 79-day trek across more than 23,000 miles.
On that morning, the EOW Ride to Remember stop in North Augusta honored two officers ­– North Augusta Public Safety Officer Dustin Beasley and Richmond County Sheriff's Office (GA) Cpl. Gregory Campbell. Both died in 2021 after contracting COVID-19. Officers representing both agencies were on hand at the memorial ride's arrival.
End of Watch Ride to Remember started in 2019 and is led by founder Jagrut "JC" Shah, a retired reserve deputy from Washington state. During his 21 years in law enforcement, Shah worked narcotics and then later patrol. He started the ride to show departments and families who have lost officers that they are not alone. The 40-foot memorial trailer that follows the motorcycles features the photos and names of the men in women of law enforcement lost during the previous calendar year.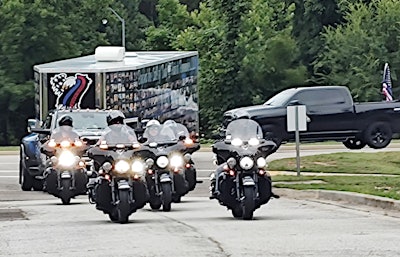 "I think it's very important to make sure that we don't forget all these beautiful men and women. Each and every one of them has a beautiful story. My goal was to make sure that the departments knew that their loss within a city, or a county, or a state was being recognized not only within their states and counties, but nationwide," says Shah.
This year's ride is taking the volunteers more miles, to more departments, and paying tribute to more officers than in prior years.
"In 2019, we lost 147 officers and we traveled to 94 departments to honor all of them. In 2020, we lost 358 and we traveled to 194 departments and a little over 23,000 miles. And this year, we're honoring 608 and traveling to 268 departments over 23,000 miles and 79 days," says Shah.
Among the volunteers this year is Kimberly Culler, mother of Bibb County Sheriff's Office (GA) Deputy Kenterrous Taylor, who was killed in a single-vehicle crash while responding to a burglary call in 2020. She was touched when the ride visited in 2021 to pay tribute to her son, so this year she volunteered. She joined the other participants after they reached Texas and rides in the truck that pulls the trailer.
Shah says another goal of the End of Watch Ride to Remember is to connect survivors with other survivors.
"This is a club that you don't really want to be part of. But each one is very unique and each one needs to support each other," he adds.
When the memorial trailer arrived in North Augusta, the gathered crowd waited and allowed Beasley's family to be the first to approach and view his photo. He is survived by his wife and son, who used a step ladder to place a blue rose in a holder next to his dad's photo.
Often, a chief or a sheriff of a department that has lost an officer may not already be familiar with End of Watch Ride to Remember when they are contacted in advance. Such was the case with J.C. Thomas, North Augusta director of public safety.
"Beyond the Call of Duty and the Ride to Remember's a great organization. I didn't recognize it right off the bat, but we did some research and it's just a great organization and as you can see today, they're very well respected. It's very well done," says Thomas.
Thomas says this was the first time the department has lost a police officer. He points out they have had some officers shot, but in each case those officers recovered. Losing Beasley was a new experience for the small public safety department of about 70 total officers and firefighters.
"It's such an honor for us to pay respect to him," Thomas says.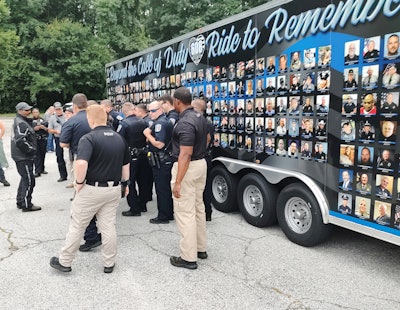 Most officers in attendance represented North Augusta, however a small delegation of Richmond County deputies likewise took time to approach the trailer and find the image of their fallen.
"For Deputy Campbell it's a wonderful sight to see," says Richmond County Deputy Joseph Hawk.
Hawk explains several weeks ago a tribute ride by the Blue Knights Law Enforcement Motorcycle Club had honored Campbell by visiting the department during an annual ride. But this was the first time Hawk had seen End of Watch Ride to Remember.
End of Watch Ride to Remember 2021 started in Spokane Valley, WA, at Lone Wolf Harley-Davidson and on June 1 visited Kalispel Tribal Casino, Seattle Police Department West Precinct, and the U.S. Department of Homeland Security ICE Seattle Field Office. From there, the riders visited departments in California, Arizona, Utah, Nevada, and New Mexico before reaching Texas on day 11. By day 22 they were visiting agencies in Oklahoma then continued to head toward the Southeast by way of Arkansas, Tennessee, Mississippi, and Alabama.
The final department the ride will visit will be the U.S. Marshall's Office in Salt Lake, UT, before returning home to Spokane Valley on day 79, Aug. 18. The dates and locations of departments that have been or will be visited can be found at www.endofwatchride.com/jointheride/.
"It's humbling. It's humbling to all of us," says Shah. "We're all volunteers, we give up our summers to do this."
Beyond the Call of Duty is a tax-exempt 501(C)(3) organization that is funded wholly by donations and sponsors. While some merchandise such as patches, pins, hats, and shirts are sold along the way, those proceeds help make the trailer and the ride possible. Shah says the organization is always looking for new sponsors or donations.