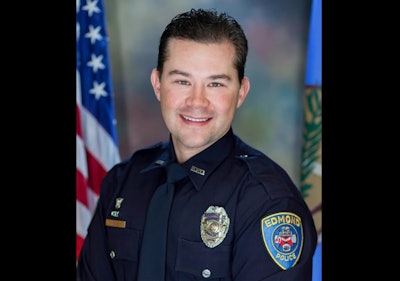 An Oklahoma motorcycle officer died yesterday from injuries he sustained in a five-vehicle traffic incident and the driver who police say caused the collision has been arrested and charged with murder in the second degree.
Sergeant C.J. Nelson, 38, of the Edmond Police Department, was on his patrol motorcycle and was one of several vehicles stopped at a traffic light around 3 p.m. A utility truck approached the intersection and crashed into the motorcycle and three other vehicles, according to The Oklahoma City Police Department. Edmond police asked Oklahoma City to handle the investigation. Following the collision, Nelson was taken to Oklahoma University Medical Center, where he passed away from injuries sustained in the crash.
Police say the driver of the utility truck, Jay Fite, was taken to St. Anthony Hospital to be checked out and while at the hospital investigators served a warrant to draw a blood sample. He was booked into the Oklahoma County Detention Center and charged with murder in the second degree.
Today would have been Nelson's 13th anniversary with the Edmond Police Department and he is the first officer the department has lost in the line of duty. He is survived by a wife and two children.
"Sergeant Nelson's passing leaves a hole in the lives of those who loved him and in the community of Edmond that will never be filled. Sergeant Nelson dedicated himself to his family and serving a community that he loved," says an Edmond Police Department statement online. "The Edmond Police Department, the City of Edmond, and the Edmond community are indebted to C.J. Nelson and his family for their sacrifice. Please continue to lift up the Nelson family, the Edmond Police Department, and the Edmond community with prayers for comfort and healing. Rest easy brother, we'll take it from here. 519 EOW 7-19-22."