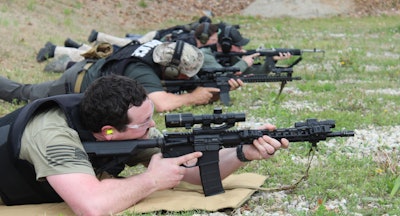 The Branson Police Department (MO) this week ordered 21 new AR-15s that will be owned by individual officers as part of a new rifle purchase program in which each participating officer will make payments through 26 payroll deductions.
Assistant Chief Eric Schmitt, who joined the department in 2017 after retiring from a Colorado agency, said he brought the plan up with the previous Branson chief when he was hired since his previous department had a similar program. The current Branson chief, Jeff Matthews, came from Texas and he also knew of a similar program at an agency there.
"In brainstorming, our issued rifles are some older (Ruger) Mini 14s and we wanted to catch up with the times and switch to the AR platform. Budget wise, that's a little tough," Schmitt says.
As the board of alderman was considering purchasing rifles for the department, Schmitt said they heard from officers that they would prefer to own their rifles.
"In southwest Missouri we're not necessarily the highest paying in the United States, and so to outlay $2,000 to $2,500 for a rifle is a little difficult for our officers at the salaries they make. However, with the city basically fronting the money and then taking it out of 26 paychecks over the course of the year, interest free, it allows the officers to afford to purchase the rifles and set them up the way they want to," Schmitt says.
The assistant chief says a key advantage of providing rifles through this program is, when compared to shared rifles, these rifles will not change hands between officers so therefore the sights will not have to be re-zeroed. Schmitt also says research shows that officers take better care of rifles when they own them.
Even though the officers ultimately will repay the city through 26 payroll deductions, the city needed to make sure to budget for the initial purchase. Final approval came in April, Schmitt says, and the department asked for request for proposals (RFPs). Of possible vendors that expressed interest, the department chose rifles produced by Sons of Liberty Gun Works in Texas. Estimated delivery time is between 90 and 120 days.
Officers were not obligated to participate in the purchase program. They could choose to use a departmental issued Mini 14 or use an approved AR they already own, which is the case with several officers at the department. Also, members of the SWAT team already use the AR platform. So, of Branson's about 40 officers, all did not need to participate in the program.
Of the 21 officers who have opted to purchase a new rifle through this program, they can select from four rifles from Sons of Liberty starting in price at $1,325. Rifle options include two with 16-inch barrels and two are 13.7 but pinned and welded to bring the overall barrel length to 16.
Officers were given a budget up to $2,500 as they selected their base rifle and added optics and accessories. They could choose between two different Aimpoint sights and two different flashlight options. They could also include a sling and extra magazines in the purchase.
"This allows the officers to spruce it up as they'd like and make it their weapon and they'll take good care of it and we expect their range scores to go up and the guns to function properly," Schmitt explains. "The one that really made this happen was our firearms sergeant, who is Sgt. Stan Kauffman. I think that he's the one that put the most work and the research into it and helped our board with a study session and everything. We let him loose on it, and he made it happen."
The officers can take the new rifles home with them at the end of a duty shift, or they can choose to leave them at the department locked up in a gun safe. If an officer leaves the department, he still owns the rifle. If he leaves prior to paying off the rifle, then the outstanding money owed will be deducted from his final paycheck.
"We're hoping that this is somewhat of a recruitment tool too. It shows that the city's looking at taking care of the officers and allowing them options to improve their armament as well," Schmitt says.
Past the rifle purchase program, Schmitt says there are many other advantages for an officer to join the Branson Police Department. He has seen about a 27% increase in salaries for officers during his tenure, but there are other perks for an officer serving in Branson.
"We've got a very supportive council, our community absolutely loves the cops, and it's not like a big city at all. We have 9 million visitors a year, but it's still a small-town atmosphere where even our tourists are always buying lunches for our officers and so forth," Schmitt says. "So, we have a lot of support here. They support their first responders, they love their veterans — very God and country here. It's a great little pocket of America here."