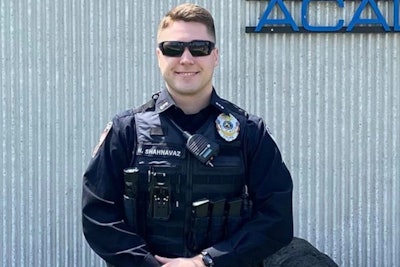 An Elwood, IN, police officer was shot and killed early Sunday morning during a traffic stop.
Officer Noah Shahnavaz stopped the suspect at 2 a.m. Fox 59 reports the last radio transmission that Shahnavaz made indicated that the driver of the vehicle he pulled over "had a gun."
Shahnavaz was found still in his patrol car, his weapon still in his holster. The windshield and driver's side window were damaged by gunfire, court documents say.
Police took Carl Roy Webb Boards II into custody after a vehicle pursuit and found a handgun in his possession and a rifle on the driver's side seat.
Officer was a U.S. Army veteran who joined the Elwood Police force just 11 months ago, People reports.
Boards has a significant criminal history, including a conviction 16 years ago for shooting at Indianapolis police officers.
The Madison County Prosecutor's Office formally charged Boards with the murder of Officer Shahnavaz, two counts of revisiting law enforcement, and serious violent felon in possession of a firearm. The prosecutor's office also filed a habitual offender enhancement and felony firearm enhancement.