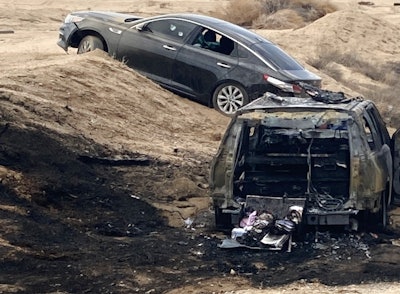 A San Bernardino County Sheriff's Department (CA) police dog was rescued after a patrol vehicle caught fire at the end of a stolen vehicle pursuit Thursday afternoon.
Deputies acted quickly to get K9 Nina out of the burning vehicle and because of their quick response she only sustained minor singeing to her whiskers and fur.
According to a press release from the San Bernadino Sheriff's Office/Victorville Police Department, the incident began when a deputy from the Victorville Police Department located a 2016 Kia that had been reported stolen earlier.
The deputy attempted to stop the car, but the driver refused and a pursuit through Victorville began. At one point, officials say, the suspect drove into oncoming traffic and caused a non-injury collision.
The suspect also drove the vehicle into a patrol unit then sped away. Then another deputy attempted a PIT (pursuit intervention technique) maneuver. But the suspect continued fleeing.
The pursuit came to an end when the suspect high-centered the vehicle on a dirt berm in the desert near an intersection and then refused to exit the vehicle.
At this point, deputies noticed the K9 patrol unit had caught fire. They responded quickly to remove the suspect from the nearby vehicle and rescue Nina, the dog.
Officials report the vehicle quickly became fully engulfed in flames and the surrounding desert began to catch fire. The City of Victorville Fire Department responded to the scene and extinguished the fire.