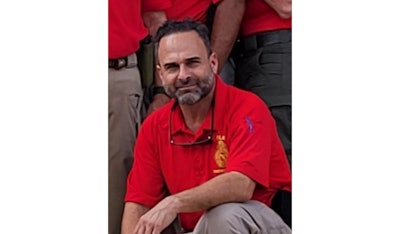 The Florida Department of Law Enforcement announced the passing of Special Agent Jose Perez, who died Saturday from his injuries caused by a major car crash Aug. 2 while responding to an incident. Perez retired from the Miami Police Department as assistant chief before joining FDLE.
The collision happened when he was on his way to investigate an alarm at the Florida Department of Law Enforcement's Miami Regional Operations Center, according to FDLE. Another car struck his departmental vehicle and Perez suffered what the agency described as "very serious injuries."
"Our hearts are heavy as we mourn the loss of Agent Perez, who spent his entire life serving others from the United States armed forces to more than 30 years in law enforcement," says FDLE Acting Commissioner Mark Glass.
Sunday, FDLE was joined by fire rescue and numerous law enforcement agencies, including the City of Miami Police Department, Miami-Dade Police Department, FDLE Capitol Police, Florida Highway Patrol and Florida Fish and Wildlife Conservation Commission to escort the fallen officer's body from Kendall Regional Hospital to the Miami-Dade Medical Examiner's Office.
"That doesn't even do the justice for the type of man that he is and, in my opinion, he's a good man, good father, good husband, good cop, he was a great soldier, but more importantly he's a man of faith that truly understands the meaning of service," FDLE Special Agent in Charge Troy Walker tells CBS Miami.