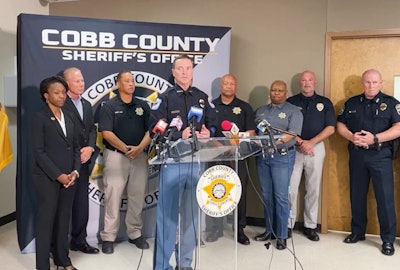 Two Cobb County Sheriff's Office (GA) deputies were killed Thursday night while serving a warrant on a theft charge at a home just west of Marietta. Two men are in custody and one of those will be charged with the murder of the two deputies.
Deputy Jonathan R. Koleski, 42, and Deputy Marshall S. Irving Jr., 38, were killed in the line of duty.
The Cobb County Police Department is leading the investigation and in a Friday press conference Chief Stuart VanHoozer provided some details of what happened Thursday night.
He said Cobb County Sheriff's Office deputies were attempting to serve an arrest warrant for Christopher Cook in the driveway of the home. While they were doing that, they were confronted by an individual inside the home with a weapon, the chief explains.
"Both deputies gave that individual loud, clear verbal commands to drop the weapon. He did not do that. At that point there was an exchange of gunfire between the subject and the deputies. Both deputies were struck by gunfire and both deputies succumbed to their wounds," says VanHoozer.
After a nearly four-hour standoff the original person named in the arrest warrant, Christopher Cook, and the suspected gunman, Christopher Golden, were taken into custody. The police chief said Cook faces the charges on the original warrant and Golden has been charged with two counts of murder and two counts of aggravated assault on a police officer.