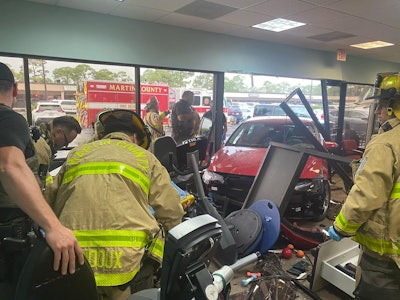 A Martin County, FL, Sheriff's deputy undergoing physical therapy for an injury he received chasing a fleeing suspect, was seriously injured again when a car smashed through the front of the Jensen Beach facility pinning him against the equipment.
The incident happened just after 2 p.m. Thursday.
"The deputy was engaged in his regular physical therapy to treat his ongoing leg injury when the car plowed through the building hitting him. No one else was injured. The deputy was transported to the hospital," the Martin County Sheriff's Office reports on Facebook.
Cause of the accident has not been determined.
The driver of the car was not injured, according to officials.