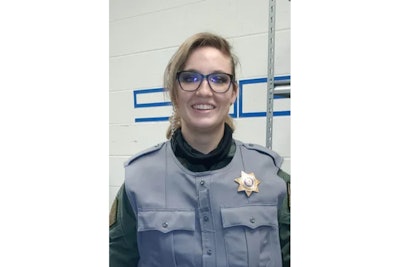 A Weld County, CO, sheriff's deputy was killed in a crash Sunday while riding her motorcycle to work.
Alexis Hein-Nutz was riding a 2021 Kawasaki motorcycle to her job as a detentions deputy at the Weld County Jail. The motorcycle collided with the front passenger side of a van and caught fire, Colorado State Patrol said.
Deputy Hein-Nutz, 24, was declared dead at the scene, the Coloradoan reports.
The driver of the other vehicle, identified by law enforcement agencies as Octavio-Gonzalez-Garcia, fled the scene on foot and could not be located, despite an extensive search by Weld County sheriff's deputies, including three K9 handlers and a drone pilot, with assistance from CSP, Eaton Fire Department and Greeley and Denver police departments, Reams said. Denver police sent a helicopter to assist with the search.
The Weld County Sheriff's Office said the suspect was found and arrested by its strike team, Colorado State Patrol and Fort Collins police at 10:15 p.m. Monday.