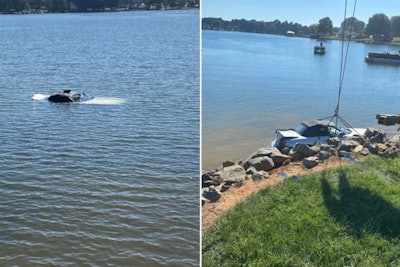 A retired New York City police officer jumped into North Carolina lake on Wednesday to rescue a driver stuck inside a sinking convertible, authorities said.
The incident happened around 3 p.m. at Lake Norman in Mooresville, Mooresville Fire-Rescue told Fox News.
The car had traveled off the roadway and crashed in the lake when the retired officer, who is also a local resident, happened to be passing by, fire officials said. He jumped into action as the vehicle quickly began to fill up with water and sink.
"The passer-by was able to unbuckle the seatbelt and get the driver out of the vehicle," fire officials said. "A boater jumped into the water and assisted with swimming the driver to a nearby dock."