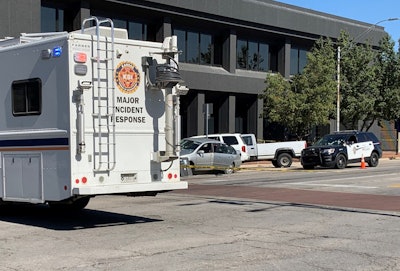 A Topeka, KS, police officer was saved by his ballistic vest Thursday when he was struck by gunfire as officers pursued a homicide suspect. That officer was taken by EMS to an area hospital, where he was treated and released.
The Kansas Bureau of Investigation (KBI) was asked to assist, deployed the Crime Scene Response Team, and is leading the investigation of both the homicide and the officer-involved shooting.
Topeka officers responded around 9:30 a.m. to the report of a shooting and arrived to find one person dead and another injured, reports KAKE. The wounded person was taken to a local hospital and was reported to be in stable condition.
According to the KBI, about 10:45 a.m,. a Topeka officer spotted Eric D. Perkins, 33, of Excelsior Springs, MO, who was believed to be the suspect in the homicide earlier in the morning. When the officer attempted to stop Perkins, he refused to pull over, resulting in a pursuit.
During the car chase, Perkins fired in the direction of pursuing officers and officers returned fire on several occasions, according to the KBI. Shawnee County Sheriff's Office deputies joined Topeka officers during the pursuit.
Perkins crashed his car and then continued exchanging gunfire with the responding officers. He was shot, and officers took him into custody. Investigators report nine Topeka Police Department officers and one sheriff's deputy fired shots during the incident.
Police found a 38-year-old female passenger in Perkins' car also sustained non-life-threatening gunshot wounds during the incident. Perkins is reported to be in serious but stable condition at an area hospital. The woman is hospitalized in good condition.