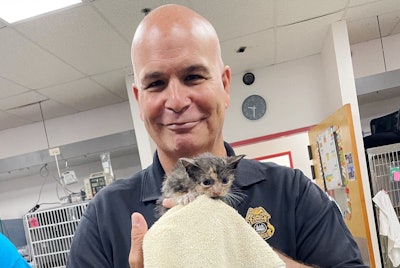 As Hurricane Ian devastated Florida, police officers, state troopers, and deputy sheriffs across the state sprang into action to rescue residents. In Tampa yesterday, among those rescued was a kitten who has now been named Stormie.
According to the Tampa Police Department, two officers were patrolling during the storm and spotted a kitten alone and scared in the middle of the roadway.
They rescued the kitten, placed her in their patrol vehicle, and took her to a local veterinary clinic.
Within an hour, the kitten was adopted by a family.
At first, the family wanted to name the kitten Ian. But when it was revealed the kitten was a female the family chose to name her Stormie.