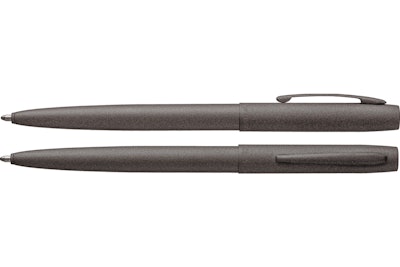 Fisher Space Pen and NIC Industries, makers of Cerakote, have teamed up to add new designs to the Fisher Space Pen line.
Cerakote is an innovative coating technology that uses ceramic and polymer to create a thin layer on any hard surfaces, including plastic, hardwood, polymer, and metal. The coating is easy to apply and comes in hundreds of unique colors.
Fisher Space Pen models now available with Cerakote include:
* The Cap-O-Matic Space Pen, which is commonly used by first responders. The cap activation makes it easy and suitable to use in fast-paced, rough environments, and the matte black Cerakote coating makes it slick and pleasing to the eyes.
* The Chrome Bullet Space Pen, which is designed for easy carry in a briefcase, purse, planner, pocket, or wallet. "Since its conception in 1948, the Bullet Space Pen has remained a beloved, iconic American classic," Fisher Space Pen says.