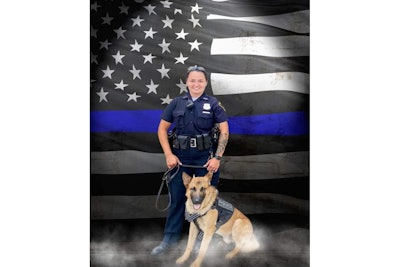 K-9 "Brev," partner to slain K-9 handler Officer Seara Burton, has been retired from the Richmond (IN) Police Department and is now living with the late officer's mother and stepmother, Chief Mike Britt said Wednesday.
"Brev is happy at home," the chief told WHIO.
"We don't know how that would go (with another officer). Brev was completely at rest and at ease with that family and he is now residing with them. It seems as though it was a logical fit instead of trying to find another officer that could bond with Brev," the chief said.
The news about K-9 Brev came as the chief was reacting to a planned donation to the department's K-9 unit from a Richmond business, the Warm Glow Candle Co., which raised $25,000 from the sale of hand-made candles honoring Officer Burton. The company chipped in its own money to raise the donation to $26,000.
Officer Burton was shot and critically wounded Aug. 10. She died in the hospital Sept. 18.