Thirty-seven police departments from across Florida continue to work together around the clock to help southwest areas of the state recover from Hurricane Ian.
Supporting officers hailing from neighboring police departments continue to pour in, allowing for local officers to return home and check on their own families, reports the Fort Meyers News-Press. During a Wednesday press conference officials talked about the support from other agencies. Officers from those other departments continue to patrol, provide supplies for those in need, and respond to 911 calls.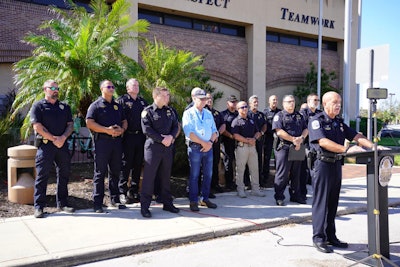 "My fellow chiefs are committed to stay here as long as it takes to make sure that your officers are back in their place with their families," said Coral Gables Police Chief Edward Hudak Jr. during the press conference.
Kevin Anderson, mayor of Fort Myers, expressed his gratitude for the response effort.
"Just seven days ago, this city was hit by a horrible, horrible devastating storm," Anderson said. "Yet, we are strong ... We are resilient, and we are bouncing back."
According to the Fort Meyers Police Department, agencies assisting in their area include:
Coral Gables Police
Medley Police Department
City of North Miami Police Department
Miami Beach Police Department (Florida)
Miccosukee Tribal Police Department
Golden Beach police department
City of Doral Police Department
Miami Beach PD
Miami Police Department
Medley Police Department
While being on the receiving end of other agencies' assistance, Fort Meyers police likewise have done their part to assist Lee County. The Fort Myers Police Department Marine Unit aided the sheriff's office in delivering supplies to Pine Island and patrolling overnight shifts to deter looters away from Sanibel Island.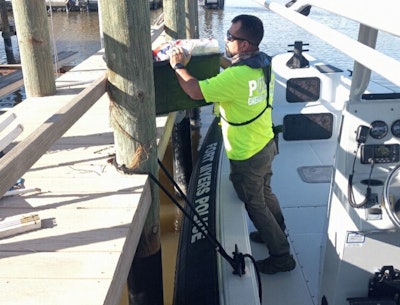 Among response and relief efforts, Lee County deputies escorted Publix delivery trucks of supplies to Matlacha and Pine Island.
Once the first leg of the bridge to Pine Island was open, Sheriff Carmine Marceno and deputies found a group who had been supporting their community while cut off from the mainland. The sheriff immediately organized deputies from Training, Corrections, and the Civil Unit to bring in supplies to aid their efforts.