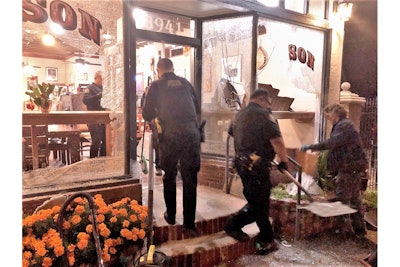 A Portland coffee house was vandalized Wednesday morning after it announced a "coffee with a cop" event on social media.
Around 2:51 a.m., officers responded to a report of vandalism at the Bison Coffeehouse. When they arrived, they found windows had been broken, property damaged, and white debris from a discharged fire extinguisher throughout the interior, according to a PPB statement.
Mayor Ted Wheeler said on Twitter that the suspect wore masks when they attacked the shop. Wheeler added: "Upon arrest, I will advocate for the prosecution to the fullest extent of the law—including potential federal hate crimes."
"All my windows in the front and my door was busted out," owner Loretta Guzman told Fox12. "I got dressed and came down here. Police were already here. I was just looking. You could still hear all the glass cracking, dropping, and breaking. At first I just thought just the windows were broken, but my brother kept talking about paint all the way to the back of the shop. I didn't know what he was talking about until I looked through the windows. He said they sprayed paint through the whole entire building. I was just so in shock. I didn't know what to say, I didn't know what to do, didn't know where to start."
Guzman says her friends told her she was still going to open her coffee shop and still hold her "Coffee with a Cop" event. After walking around to survey the damage, she noticed people had started to gather outside the shop.
"People were standing out there wanting to know what happened," said Guzman. "I came in, they followed and asked what they could do to help. I said we need to clean paint. They said ok. They grabbed rags and we all got to work scrubbing the paint off the walls, the counter, the floor, my bison. We've been here all day."
Portland officers also assisted in clean up efforts.
Guzman says she's never had problems with previous "Coffee with a Cop" events.