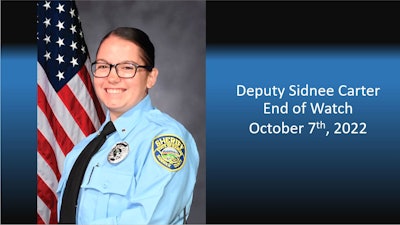 A Sedgwick County, KS, sheriff's deputy died Friday night on her way to a disturbance call when she collided with another vehicle.
Deputy Sidnee Carter, 22, joined patrol less than one week ago, Sheriff Jeff Easter said in a news conference Saturday.
Carter joined the Sheriff's Office in September 2020 and spent one and half years as a jail deputy. She entered the academy in February and graduated in July. She completed field training and starting on patrol by herself Oct. 1, the Wichita Eagle reports.
"Sidnee is a very bubbly personality, extremely friendly, always helpful, was always smiling, well respected by her peers, her supervisors, and she is a little bit short in nature, but there is no hill that she couldn't climb," Easter said. "She just had that bearing about her that she just made other people want to be better because of the way she was."