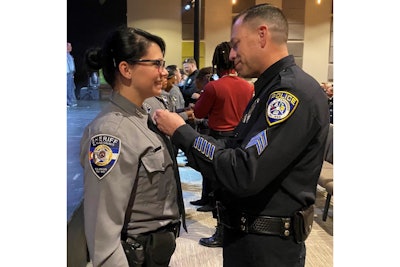 In 2000, an Escondido, CA, police officer saved the life of a 6-week-old baby girl.
Last week, that baby girl began her career in law enforcement with the El Paso (CO) Sheriff's Office and experienced the surprise of her life: meeting that officer at her graduation in Colorado Springs.
"My mom sat me down…she was like, I found the officer that saved your life," said Natalie Young.
Natalie says she couldn't believe the news: "When I tell you I couldn't even speak. He's coming to my graduation? She said he's going to pin the badge on you!"
Her mother, who works in dispatch, began digging. After several calls, she was able to get in contact with Sgt. Jeff Valdivia, who still works with the Escondido Police Department, 10 News reports.
Valdivia says he still remembers the day 22 years ago when he responded to a house in south Escondido and found baby Natalie on a bed with a meth pipe nearby.
Natalie was placed in protective custody and adopted.