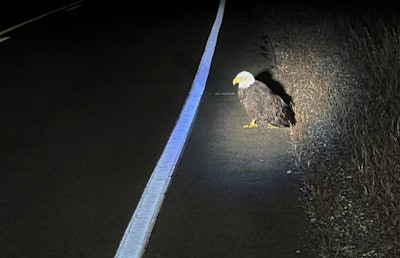 An alert Wisconsin state trooper patrolling recently spotted a bald eagle standing on the edge of the road and stopped to assist.
According to the Wisconsin State Patrol, the trooper was patrolling in Monroe County when he saw the eagle. As he approached, the trooper could see the eagle had an injured wing.
So, he protected the eagle with his cruiser while he called the Wisconsin Department of Natural Resources for assistance and escorted the eagle to safety as it crossed the road and bedded down in tall grass.
With the eagle out of traffic, the situation was turned over to the DNR.