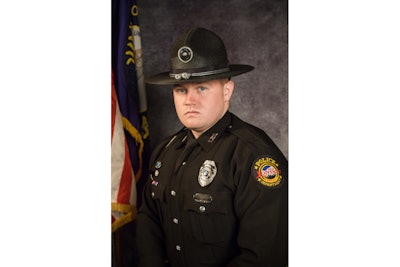 A London, KY, police officer was killed early Sunday morning while on duty when his patrol vehicle was hit by a suspected drunk driver.
The Kentucky State Police says that a 2022 Ram pickup operated by Casey P. Byrd, 36, of Oneida, TN, crashed into Officer Logan Medlock's 2019 Dodge Charger patrol vehicle shortly before 1 a.m. Medlock died at the scene.
Byrd was not injured in the accident. He was taken into custody and charged with murder of a police officer and operating a motor vehicle under the influence with aggravating circumstances.
Officer Medlock, 26, is survived by his wife and a five-year-old son.