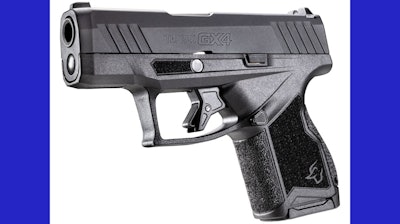 Taurus, manufacturer of premium handguns for defense, hunting, and sport shooting, announces the GX4 family of firearms has won the Guns & Ammo Handgun of the Year award for 2022.
Hailed for its exceptional handling characteristics in a micro-compact profile, the GX4 family's hybrid stainless steel and polymer receiver includes a modular grip with standard or high-swell backstrap options for a custom fit, industry-leading grip texturing for optimal firearm control, an ergonomic and reversible magazine release to promote no-fumble mag swaps, and a class-leading flat-face target trigger with a generous trigger guard to accommodate all hand sizes.
"Thanks to everyone out there who carries, shoots, and uses their GX4, and all our products for making this possible. And don't think we're stopping here. We've got some incredible new products coming in 2023 that are going to keep moving the company forward," says Bret Vorhees, president & CEO of Taurus Holdings, Inc.
The latest release to the GX4 family, the GX4XL, was released in August and brought features desired by performance shooters and concealed carry enthusiasts.
The GX4 and its bigger brother, the GX4XL are assembled in the United States at the company's Bainbridge, GA, facility. It was the company's first design build from the ground up with optics in mind.
About Taurus
Taurus Holdings, Inc. (Taurus) and its subsidiaries continue to evolve and produce revolutionary new products. In addition, new standards for quality and efficiency help deliver reliable and affordable guns to the market. Taurus is based in Bainbridge, GA, and is owned by Taurus Armas, S.A., a publicly traded company based in Brazil. Taurus Armas S.A. manufactures a wide variety of consumer and industrial products that are distributed worldwide. For additional information, visit www.taurususa.com.