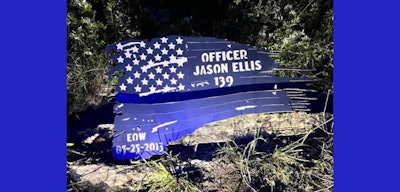 As investigators continue to search for a suspect, a $3,000 reward is now offered for information leading to the arrest of the person who vandalized a memorial to a fallen officer in Kentucky several weeks ago.
Trampled flags and empty beer cans are all that's left of the memorial site that honors former Bardstown police officer Jason Ellis at Exit 34 of the Bluegrass Parkway, reports WLKY. The memorial was placed at the location where Ellis was gunned down in 2013 in an ambush.
Someone damaged the memorial site and stole a blue metal flag bearing Ellis' name and his end of watch date. The Nelson County Sheriff's Office reports this was a deliberate, calculated theft as the flag was bolted to a metal fastener and anchored into the rock.
"Whoever did it, your day's coming," says Nelson County Sheriff Ramon Pineiroa. "It may not be today, it may not be tomorrow, but you can mark my words, your day's coming."
The reward offered initially was $1,500 but Pineiroa says the sum recently increased to $3,000 through contributions from a business, a local citizen, and a fraternal order of police (FOP) lodge.
A witness provided a tip to the sheriff's office and reported seeing a white man in a red or red-orange S10 Chevy pickup truck around the time the incident took place.
Former Bardstown Police Chief Rick McCubbin said when he heard about the vandalism of the memorial site it made him "very, very mad." He tells WDRB it only adds to the layers of grief over the unsolved murder that occurred while he was police chief.
"Whoever did this was trying to make a statement, obviously," McCubbin says. "But, in the end, we're going to have the final say."