Video released by the Metropolitan Nashville Police Department (TN) shows officers return fire after a man walks into a taped-off crime scene and opens fire on an officer retreating to cover. Three officers returned fire, killing the gunman.
In the critical incident review video released by police, Don Aaron explains the Saturday morning incident. Aaron, director of the department's media relations unit, says officers were dispatched to the report of a shooting at 2:02 a.m. and found a 32-year-old victim with gunshot wounds to his extremities.
The wounded man would not tell police about the shooting and was taken to a local hospital. The officer-involved shooting happened while police were investigating this shooting.
"That shooting scene was cordoned off by crime scene tape for evidence processing. Thirty-three minutes after the initial shooting call went out, a man was seen approaching. He went under the crime scene tape and pulled a gun," Aaron explains in the video.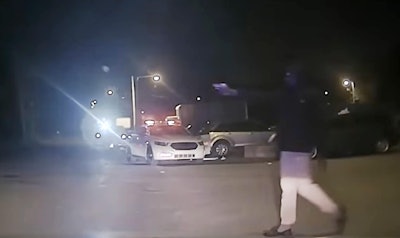 Officers are heard on the video asking each other who the man was and then ordering him to take his hands out of his pockets. He drew a handgun and fired at one officer who was backing away from the threat.
Three officers returned fire and the gunman died at the scene, says Aaron.
"Detectives are investigating whether he was involved in the earlier shooting," says Aaron. "The Tennessee Bureau of Investigation and this police department conduct thorough use of force investigations. This investigation is at the early stages and will take time to complete. In the coming days the TBI and the Davidson County District Attorney's office will continue to investigate and analyze this incident."