Folds of Honor, an organization providing scholarships to the dependents of military heroes killed or disabled, in September expanded its mission to serve first responder families.
The Folds of Honor First Responder Scholarships are open to the spouse and/or dependents of a first responder who has fallen or been catastrophically injured in a manner which led to an inability to perform the function of their occupational duties.
"This move reflects our purpose to meet sacrifice with hope," says Folds of Honor (FOH) Founder and CEO, Lt. Col. Dan Rooney. "The decision to launch our first responder scholarships is in reverence to those who paid the ultimate price on Sept. 11th, 2001. The following day was a defining moment in our history, as Americans responded to tragedy by putting differences aside, rallying together, and standing as one. It is our hope that the expanded Folds of Honor mission will inspire unity once again. Without question, it will let first responders and their families know that they are not alone."
Folds of Honor has awarded nearly 44,000 scholarships totaling nearly $200 million since it began in 2007. For the 2022-2023 academic year, Folds of Honor awarded almost 44,000 scholarships valued at nearly $200 million.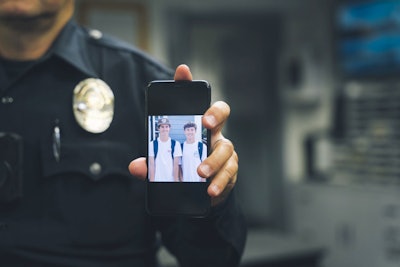 First Responders Program
As Folds of Honor adjusts its mission to incorporate first responders' dependents, a 30-year veteran of the Tulsa Police Department is leading the effort. He retired as a captain March 31 and assumed his role with Folds of Honor immediately the following day.
Luke Sherman, senior vice president of outreach for Folds of Honor, was involved in thousands of critical incidents while working patrol, street crimes, SWAT, and leading the department's fugitive warrant's unit. The retired Tulsa captain is the former chairman and current senior director for the National Tactical Officer's Association.
"My job is to bring first responders on as American heroes as well. But my job is to also carry that national message of we still are going right directly into the heart of America for our heroes, those are soldiers as well as first responders," says Sherman.
As a former cop, he is glad to see first responders now incorporated into the mission of Folds of Honor.
"It means the world to me as a law enforcement person who has spilled blood in the mud over here, and to see first responder families just putting it down every day of the week," he says. "Folds of Honor is a national organization with a big footprint. But to know that the Folds of Honor and its supporters across the nation care about those first responders is huge for them."
Sherman explains the evolution of how first responder dependents came to now be included in the Folds of Honor mission, saying it is something that he and Rooney have talked about for years, since 2014.
"We actually had kicked around this idea a long time ago and talked about how we both fold the flag the same way and talked about how that different sacrifice is given in different theaters. I wouldn't call this a theater of war. This is our country. This is America, but this is where we serve," the retired police captain points out.
The organization has grown, and Sherman points out the war against terror has begun to subside and there are not as many men and women serving in the military overseas. Those military family needs can still be met, while the organization now takes on providing educational assistance to dependents of first responders killed or catastrophically injured.
"There's a need there. There are several hundred first responders that are killed in the line of duty every year. And there's many more that are catastrophically injured," says Sherman. "There are two million first responders, there's 240 million calls a year on the average, there's 660,000 calls a day that are 911 'I need you' kind of calls, there's hundreds of responses."
"You know, when you look at 660,000 calls a day, sometimes our first responder heroes get hurt. And so, there is that need to take care of those families," Sherman adds.
"There's two words - freedom and safety. Who doesn't like them? Who doesn't want the freedom that our military gives us? And who doesn't want the safety that our first responders give us when we hit 911 and you've got a person coming to take care of us in a professional manner?" says Luke Sherman, senior vice president of outreach for Folds of Honor.
Scholarships
Unlike some scholarship programs that only provide funds for higher education, Folds of Honor offers scholarships for private school K-12 education, tutoring in grades K-12, technical or trade school, and post-graduate work. They even assist individuals studying to earn a second bachelor's degree.
The scholarship must be used for approved educational purposes such as tuition, most fees, required textbooks, or required school uniforms. Funds will be sent directly to the educational institution and will not be sent to an individual.
Application
For those interested in a scholarship, the application window is open between February 1 and March 31 each year. More information can be found on the Folds of Honor scholarships page.
Supporting the Cause
If you would like to support military and first responder families, you can become a Squadron member by joining thousands of committed American patriots who pledge $13 every month.
About Folds of Honor
Folds of Honor is a 501(c) (3) nonprofit organization that provides educational scholarships to the spouses and children of military members who have fallen or been disabled while serving in the United States armed forces. Its educational scholarships support private-school tuition or tutoring in grades K-12 as well as post-secondary tuition. It is rated a four-star charity by Charity Navigator and Platinum on GuideStar. It was founded by Lt. Col Dan Rooney, an F-16 fighter pilot, who is currently stationed at Headquarters Air Force Recruiting Service Detachment 1, at Joint Base San Antonio-Randolph, TX. For more information visit FoldsOfHonor.org.