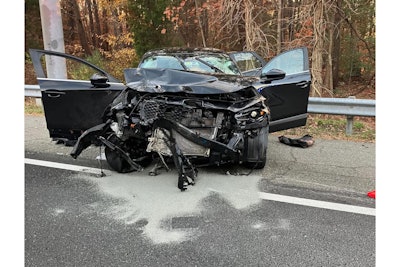 A Virginia State Police trooper was dragged about three miles along Interstate 295 Friday afternoon. The trooper was not seriously injured. The driver was arrested around 6 p.m. after a search.
The incident began at 4:08 p.m. Friday when the trooper spotted a 2021 Mazda CX-30 SUV speeding on Interstate 295 in Henrico County. The trooper initiated a traffic stop, and the SUV pulled off onto the shoulder at the 37-mile marker. The traffic stop was for 97 mph in the 70-posted zone, the Virginia State Police reports on Facebook.

The trooper approached the SUV on the passenger side. The driver was non-compliant to the trooper's requests and drove away at a "high rate of speed" with the trooper trapped in the passenger side door, police say. The SUV reached speeds of up to 115 mph as it continued south on I-295, police say. The SUV struck two southbound tractor-trailers and then crashed. The driver fled the scene on foot. A handgun was recovered from inside the SUV, police say.

The driver, Milton Jermaine Lewis, 38, of Delaware, was charged with reckless driving by speeding, felony eluding of a police officer, having a concealed weapon, altering a serial number on a firearm, felony assault of a law enforcement officer, abduction, attempted capital murder, failure to maintain control of a vehicle, no seatbelt, felony hit and run. Lewis was not seriously injured.