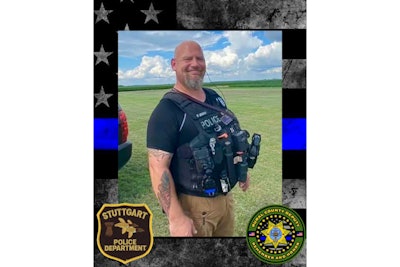 A Stuttgart, AR, police officer was shot and killed and an Arkansas State trooper was wounded late Wednesday during a pursuit that ended in a standoff.
A vehicle pursuit by Stuttgart Police began around 11 p.m. Wednesday and ended when the suspect, identified as Jacob Cole Barnes, 31, abandoned his vehicle and fled on foot, according to a statement issued by SPD.
During the foot pursuit, Barnes is believed to have fired on two Stuttgart officers, resulting in the death of Sergeant Donald Scoby, 45, the Daily Leader reports.
Barnes then entered a residence.
Moments later, Barnes fired at an Arkansas State Police SWAT trooper. The trooper was hit and suffered a non-life-threatening wound.
Barnes was killed during an exchange of gunfire with ASP SWAT.