The Orange County (CA) District Attorney's Office has cleared a La Habra, CA, police officer who shot and killed a man outside of the department's station in 2021. The suspect shot an officer before the second officer shot him.
On Aug. 6, 2021, shortly after 7 p.m., a woman called 911 reporting that a man was following her vehicle. The 911 call-taker directed the woman to drive to the La Habra police station. The man followed her.
Officer Milward made contact with the man outside of the police station. He told the officer he was waiting for someone. As Milward turned away the suspect drew a pistol and opened fire. Milward was hit in the chest and went down.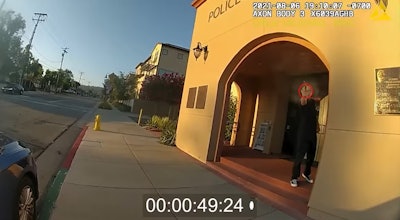 A second officer, Officer Fox fired five rounds at the gunman, mortally wounding him.
The suspect, identified as Matthew-Tuan Tran was pronounced dead at 7:26 p.m.
Local media reports the round that hit Officer Milward in the chest penetrated his vest. He spent a week in the hospital and later recovered at home, ABC 7 reports.
No motive for the attack on the officers or the harassment of the female driver has been revealed.